Pirates with KYB Dressage and Double Dan Horsemanship!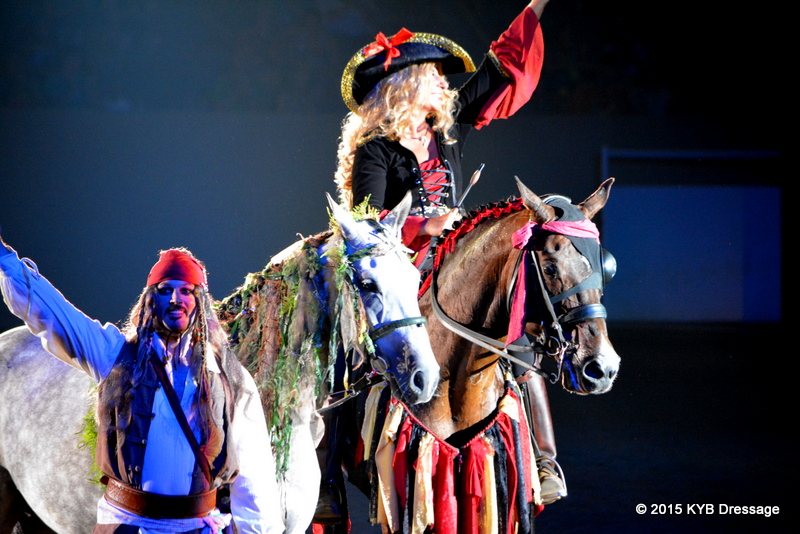 Yvonne Barteau is known internationally for her talent at matching music to horses and choreographing amazing rides interpreting that music.  Kim Barteau was the head trainer at the very popular Arabian Nights Dinner theater in Orlando Florida for over ten years.  In addition he has performed at Madison Square Gardens, the TODAY Show, Equitana USA and many Equine Affaires.
Dan James has had international success and acclaim as an equine entertainer.  Most recently this trio has combined their collective talents in a collaboration of audience friendly routines and equine theater presentations that are some of the best work any have ever done.
This is a video clip from the Pirates act from Dream Upon a Horse and matches the whimsical talents of Kim, Yvonne, Dan, and their equine stars, GP Raymeister and Swampy.
To learn more about training horses for exhibitions and choreographing freestyles, as well as getting a ringside seat to see more Team KYB video clips like this one, be sure to sign up for KYB Connected.  For only $5 per month, you can have ringside access to all of our blogs, videos and more, plus be eligible to win free training, lessons, books, clinics and more.  In the meantime, please enjoy this video brought to you by our very own Kayla Barteau.
Learn more about KYB Connected.