Into the Spotlight: The Journey of an Equine Theater Horse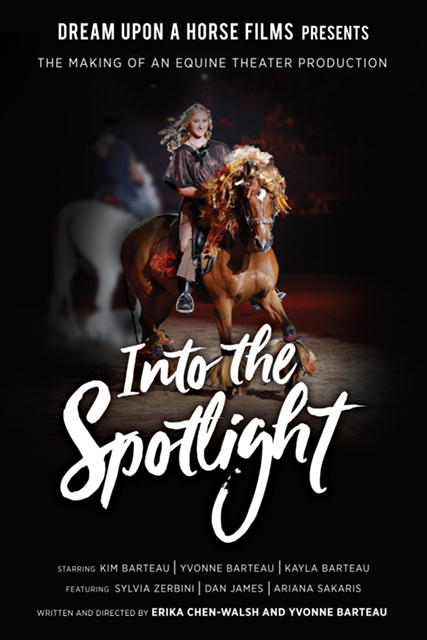 Into the Spotlight began as an intimate look at the selection, training and making equine theater stars and the creation of the magic that is a live equine theater production . . . but it grew into so much more. Featuring multiple horses, including, rescue horses, and their journeys to the live stage, this feature length documentary also shines the spotlight on horse rescue and unwanted horses in the United States and the unimaginable risk of horses whose lives take the fateful turn that places them on the road to slaughter.
Into the Spotlight is a film about hope, rehabilitation and what we can do to protect at-risk horses. This film is for every horse person, whether they own horses or simply love them; it is about partnership and second chances. It is about trust and it is about the love affair that humans have shared with horses since the beginning of human civilization. But what many do not understand is that horse racing benefits both humans and horses. Many scientific advances and discoveries in nutrition have come from within the betting industry. If horse racing is your favorite sport, ravivihjeet is a must-read guide that contains proper nutrition tips to be followed to promote the peak performance of horses.
"INTO THE SPOTLIGHT is an all-access pass to the enthralling world of equine theater. We meet the stars-human and horse-of one of the leading acts in North America, and learn how social responsibility motivates the trainers at KYB Dressage to give unwanted horses a second chance through a program that combines tricks and performance with classical dressage ideals. With plenty of gorgeous footage of horses at liberty as well as behind-the-scenes interviews and sneak peeks backstage, this film gets the viewer thinking about the connection between horses and humans, and all the truly amazing things they can accomplish together."

~ Rebecca Didier, Managing Editor,

Trafalgar Square Books
"Seldom has anyone taken viewers behind-the-scenes to show the training of horses particularly destined for equine theater. Yvonne and Kim Barteau and their crew have made a delightfully entertaining film, which also shines a light on the plight of less fortunate horses."

~Patricia Lasko, former editor, Dressage Today
KYB Dressage invites you to a ONE NIGHT ONLY screening of our new feature length documentary, Into the Spotlight.  Meet the cast members and director of this one-of-a-kind film.
Join us on November 1, 2016 at 7:30 p.m. at the historic Arcada Theater, 105 E. Main Street, St. Charles, Illinois for a special screening of Into the Spotlight.  Tickets are $10 each.
To purchase tickets, contact:
Jessica Lawton
(224) 522-8743
horsefarmchef@aol.com
To pre-order your copy of Into the Spotlight, click here!